The Benefits of Heating Pads
There are many benefits and uses for heating pads that can help relieve aches, pains, cramps, and muscle stiffness. Heating pads are a form of heat therapy that promotes consistent circulation throughout the body. When faced with an injury, heating pads are a great way to reduce muscle or joint discomfort. Infrared heating pads that reach deeper into muscles are a great choice for moderate to severe pain.
Another benefit of heating pads is that they are extremely convenient; They are portable and can be used just about anywhere if batteries or a power source is present. Users can customize the level of heat needed to soothe the ailment or they are treating. Look for an automatic shut-off feature when shopping for a heating pad to prevent burns and overheating if you fall asleep on the heating pad.
Heating pads are effective for pain management, but they can be dangerous when used improperly. Here are a few safety tips to avoid injury.
1) Don't place a heating pad or heated gel pack directly on your skin. Wrap it in a towel before applying to skin to avoid burns.
2) Don't fall asleep using a heating pad.
3) When using a heating pad, start on the lowest level and slowly increase the heat intensity.
4) Don't use a heating pad that has a cracked or broken electrical cord.
5) Don't apply a heating pad to damaged skin.
UTK specializes in far-infrared heating pads, and UTK far-infrared heating pads are FDA registered as Medical Devices Class II. All UTK far-infrared heating pads use a combination of negative ions, far-infrared rays and natural stones to give you optimum healing. The pads are tested to make sure they contain the highest amount of far-infrared rays and negative ions.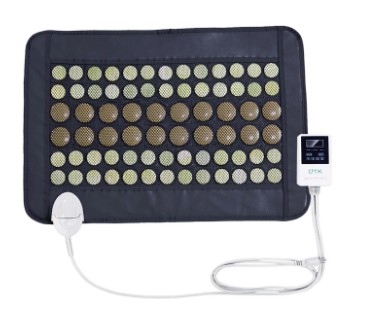 There is a perfect heating pad out there for any type of discomfort. If you don't have a heating pad, you can use a hot shower, bath, or homemade heating pad for similar heat therapy results. Listed below are specific heating pads for various uses. Click the links below to find the perfect one for you!