Company Advantages
· UTK heating pad for knee joint pain is manufactured under the strict scrutiny of our experienced team.
· The substrate of this product features improved heat dissipation, greatly lowering the operating temperature. Thus, it counts a lot in extending its service life.
· One of the customers said: 'I switched on and off continuously and frequently, I can't find any flicker problem.'
【72 NATURAL STONES BUILT IN】 52 Natural Jade 1.2″ Stones and 20 Tourmaline 1.6″ Stones individually placed in the heat pad.
【FAR INFRARED THERAPY】 Infrared rays reach 4-6 inches into your joints, muscles and tissues. Since it gets to hard-to-reach areas, it decreases pain, inflammation and stiffness. This pad reaches a range of 4-14 µm.
【NEGATIVE ION THERAPY】 Heated stones release negative ions. Negative ions help improve your mood, alertness and anxiety. This mat releases negative ions up to 2000/cc. Tourmaline stones release the most negative ions.
【3 POUNDS OF WEIGHT】 Get the benefits of a weighted blanket to help soothe your mind and calm your body, or without the weight by laying on top of the mat.
【MEMORY CONTROLLER】 Memorizes your preferred settings. If anyone uses your heat pad and plays with your settings, you can press one button to revert back to your preferred settings. Can control temperature from 103°F-159°F in increments of 1°F. Can auto shut off with a timer up to 4 hours in increments of 15 minutes. Has a 10 foot long cord so you can use the heat pad no matter where your outlets are.
【FDA CERTIFIED】 FDA registered as Medical Device Class II (same safety rating as powered wheelchairs and pregnancy test kits). They also passed the FDA audit for GMP (good manufacturing practice) quality.
【LOW EMF】: Electronics such as microwaves, cell phones and more emit harmful electromagnetic fields. This heat pad emits lower EMF than normal electronics to keep you safe from harmful radiation.
【EASY USE & STORAGE】 Very flexible pad. Comes with a carrying bag so you can roll the heat pad, store in the carrying bag and take with you anywhere.
【1 YEAR WARRANTY】 Has a 1 year manufacturer's warranty.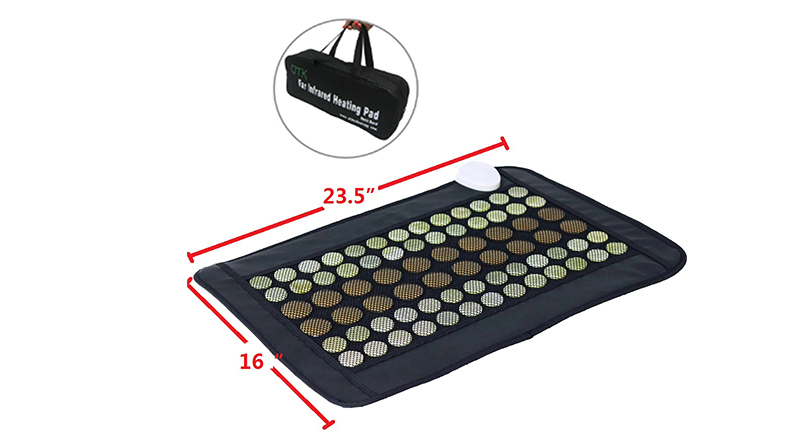 Perfect For Targeted Heating
This small heat pad is the perfect fit for your upper back, lower back, abdomen, legs and any targeted area.
It also can be rolled up so that you can lay on it like a long pillow.
When rolled up, it can also be stored in a carrying bag that comes with the product.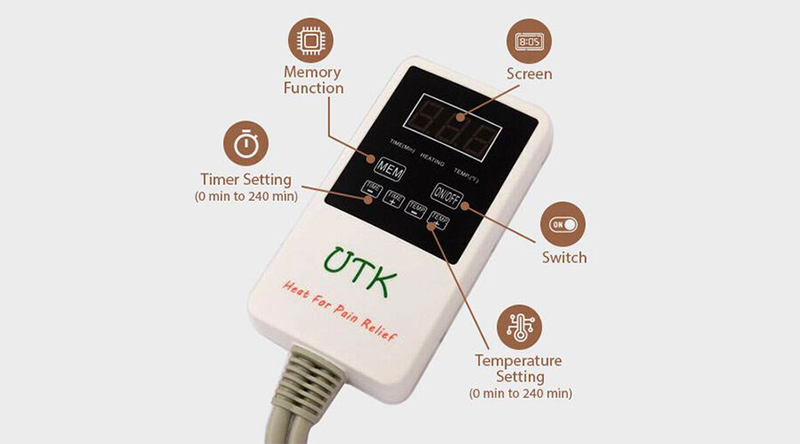 Easy & Smart Controls
The UTK Controller has a timer setting, memory function and temperature setting.
The Timer setting gives you the ability to control when the heat pad will automatically turn off. You can set the timer in increments of 15 minutes up to 4 hours.
The Memory function remembers your personal preferred setting. Once you set this Memory function, you can press on the button again and it will revert back to your personal setting. If you share your heat pad with another person and they change your settings, you can easily revert back to your personal settings!
The Temperature setting lets you control the temperature of the heat pad from 103°F-159°F in increments of 1°F.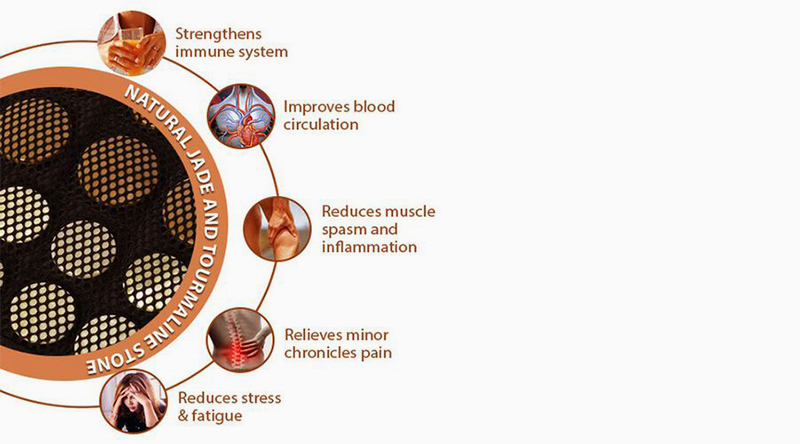 Natural Jade & Tourmaline Healing
With 52 Natural Jade Stones and 20 Tourmaline Stones, this heat pad has an enhanced effect.
When the stones heat up, they emit far infrared heat which can reach up to 4-6 inches deep into your muscles and joints. Far infrared heat can reach places that other heat pads cannot.
What's In The Box
UTK Jade and Tourmaline Far Infrared Heat Pad 23.5″ x 16″ 52
Individually Placed Natural Jade Stones and 20 Individually Placed Tourmaline Stones
Smart Controller w/ Selected Voltage Outlet
Carrying Bag for Head Pad & Controller
Instruction Manual & Warranty Card
Small Size For Any Area (Back, Feet, etc.)
AC Digital Controller

Model NO.

H-14B2S-Pro

Unique Memory Function Button

Color box size

16 x 6.3 x 4.7 inch

Auto shut-off Timer, Max. 4 hours

Made with 52 pieces of 1.2 inch natural

Temperature Settings

103℉ to 159℉ by 1℉ increments.

Jade and 20 pieces of 1.6 inch tourmaline

Timer Settings

0 to 240 minutes by 15 minutes increments.

Weight

3lb

Power

Max. 200 watts.

Power

75 Watts

Voltage

AC 110~120V

FIR

4~14μm

10ft extra long power cord

Negative Ion output

over 2000/cc

Price

$139.00
How To Setup
Unroll Jade Infrared Heat Pad for Neck and Shoulder

Plug in Smart Controller To Heat Pad Power Adapter

Plug in Smart Controller To Outlet

Set Smart Controller To Desired Temperature

Place onto desired area for pain relief!
How To Use
After setting the temperature on the smart controller and placing heat pad on desired body area, wait for the heat pad to heat up.

Heat may take longer depending on temperature that you set.

When you start feeling the heat, take a deep breath and relax. The heat is only beginning!

When the heat gets into the Jade Stones, negative ions will penetrate your body to help the relief process.

After you take off the heat pad, you will still feel the heat for much longer than if you used a non-infrared and non-jade heat pad.
Temperature Suggestions:
Warm–temperature range (103°F~110°F)

Low–temperature range (~120°F)

Medium–temperature range (~130°F)

High–temperature range (140°F~159°F)
Benefits:
Helps give temporary relief from minor muscle and stiffness.

Helps give temporary relief from joint pain.

Helps give temporary relief from muscle spasms.

Helps give temporary relief from minor sprains and strains.

Helps give temporary relief from minor muscular back pain.

Helps give temporary increase of local circulation where applied.

Helps your muscles relax.

Utilizes negative ions to help relieve stress and boost energy.
Company Features
· As a professional manufacturer specialing in amethyst healing stone heating pad, UTK Technology Limited has years' of product customizing experience in this industry. So far, the company has achieved support from society to improve its overall competitiveness.
· It is the progressive technology that our amethyst healing stone heating pad has won the popularity in the field.
· UTK Technology Limited is going to actively lead the amethyst healing stone heating pad industry with high quality and best service. Ask online!
Product Details
We pursue perfection in every detail of the best infrared heating pad for back pain we produce. And our products represent the excellent quality.
Application of the Product
best infrared heating pad for back pain of can be widely used in various fields.
With a focus on customers, analyzes problems from the perspective of customers. And we provide customers with comprehensive, professional and excellent solutions.
Product Comparison
Compared with other similar products, our best infrared heating pad for back pain has the following advantages.
Enterprise Advantages
has established a management team composed of talents in the industry to expand the publicity channels and achieve the 'going out' strategy.
provides quality products, good technical support and sound after-sales services for customers.
Our company always adheres to the business philosophy of 'quality wins the market, reputation builds the future' and promotes the enterprise spirit of 'integrity, unity and win-win'. Therefore, we continuously introduce science and technology, expand production scale, and explore new market. All that provides quality products and services for consumers.
Our company was established in and has been engaged in the industry for years.
At present, products are not only sold well in China but also exported to many foreign countries.