Do you suffer from aches and pains? There are different kinds of pains that people suffered with, including neck, shoulder, back(upper back, lower back), wrist, knee and so on. The most common pain is associated with the back.

I bet you've already tried so many ways to ease the pain, including the painkillers prescribed by doctor. Now I would like to share you one more way to alleviate the pain, which will have a better and less detrimental effect on oneself. That is choosing a heating pad or mat to use.
As we all know, heat therapy can be a good way for pain relief. Unlike a regular heating mat, what I want to introduce is UTK photon light infrared heating pad. It is designed as an alternative treatment for pain. Not only does it relieve pain, but it also offers all kinds of health and wellness-related benefits. You may wonder how does it come. Let's take a good look at UTK photon light infrared heating pad.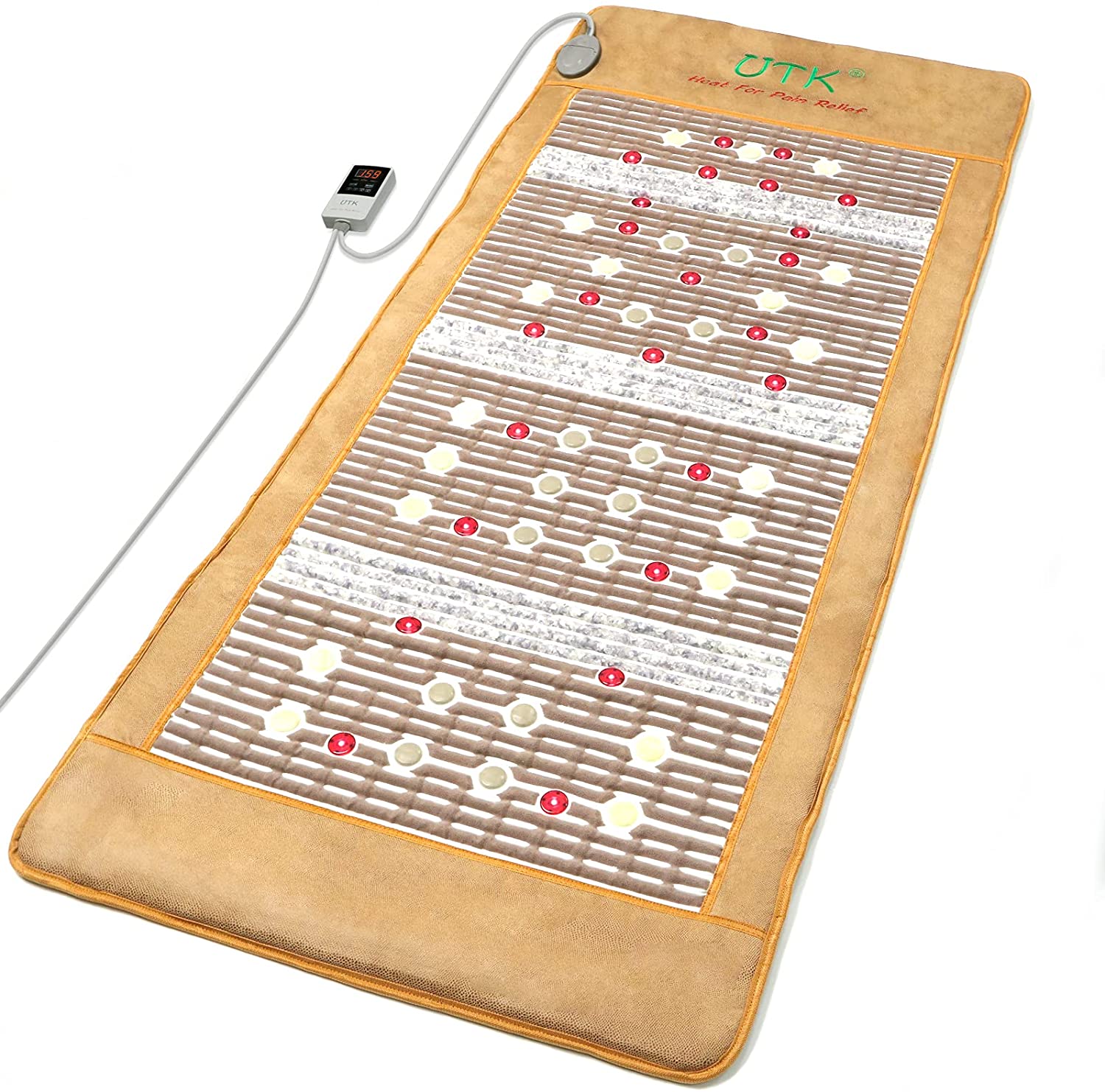 UTK photon light infrared heating pad is made with jade, tourmaline beads, amethyst, photon light and tourmaline gemstones, which combined hot gemstone therapy, far infrared therapy, negative ion therapy and Photon light therapy. The four therapies work together will do great help on diverse pians, like chronic pain, spasms, sciatic, muscle pain, joint pain etc, and give your wellness boosting.
What benifits can the four phyical therapies bring to you?
1)Hot stone therapy: Jade, tourmaline and amethyst emit far infrared rays and negative ions, which can reduce and relieve muscle and joint pain. Amethyst also can promote physical and mental relaxation, eliminate negative energy, and promote sleep quality.
2)Far infrared therapy: Jade and tourmaline stone will release far infrared rays and negative ions after heating, which will penetrate deep and evenly into the body tissue, relieve muscle stiffness and pain.
3)Negative ions is good for health, which can be found in parks, beaches, and near mountains. It is beneficial for improving your lung function for more efficient breathing, reducing insomnia symptoms through the production of serotonin, and releasing brain fog with supplemental oxygen flow. It can enhance sleep and improve relaxation.
4) Photon light therapy:uses visible red light at a wavelength of 660 wavelengths to penetrate just below the surface level of the skin to affect the body on a cellular level,photon therapy is used for detoxification, collagen production, wound recovery.All in all, UTK photon light infrared heating pad can help to relax, rejuvenate cells, increased blood flow, detox, improve joint flexibility , sleep better and ease pain.
If you are thinking of using a heating pad, you should not miss UTK photon light infrared heating pad. You get one, the whole family can use the mat. Like after working physical labor job for sore muscles, for regular back pain relief and the kids use it in the winter when cold or feeling like starting to get sick.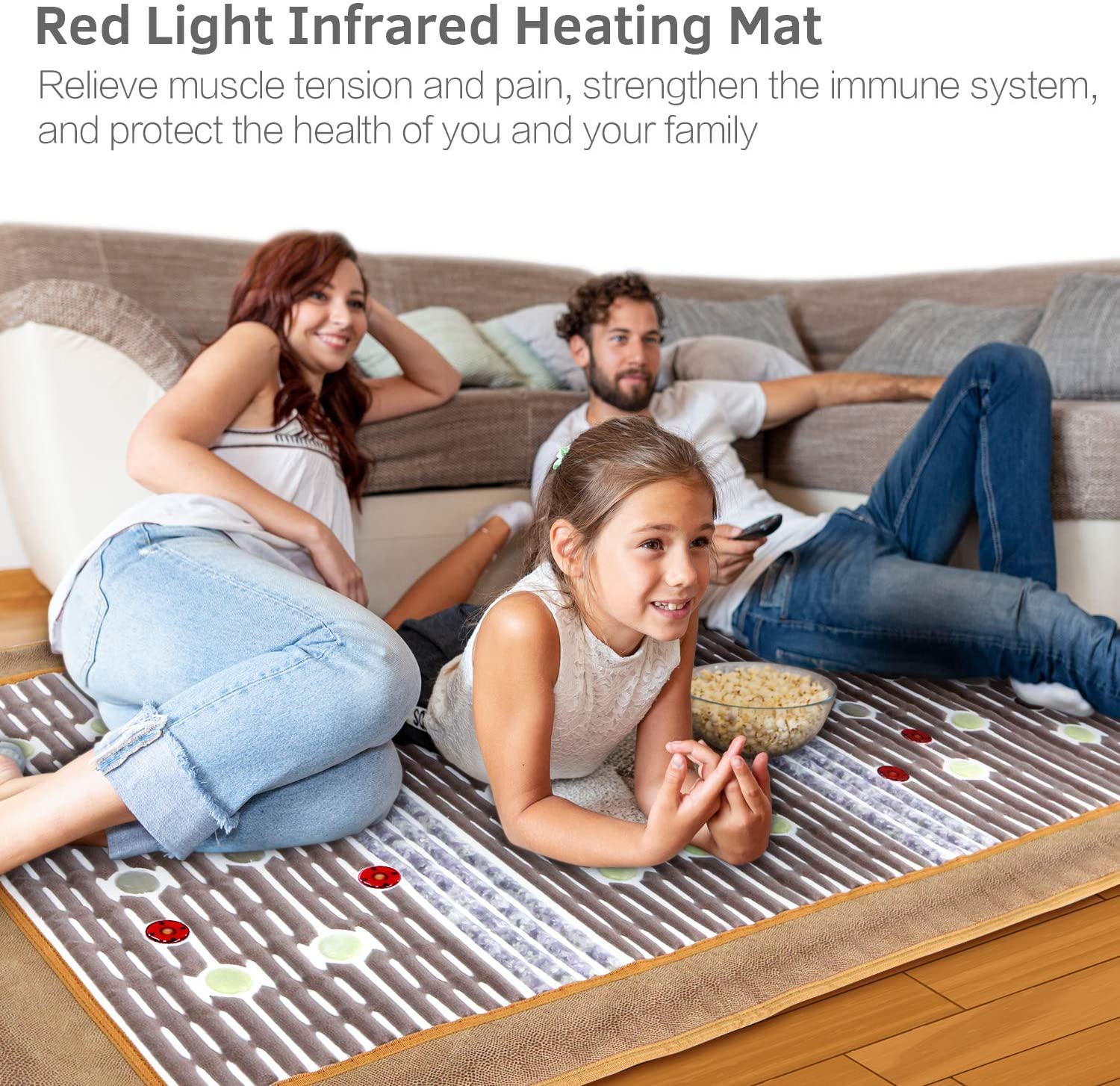 Purchase link: https://www.utktechnology.com/