In addition, the heat in this electromagnetic spectrum is completely safe, imitating the energy produced by the sun and the geothermal activity of the earth (this explains why my first use of FIR heating pads brought me back to Iceland). On the other hand, infrared heating pads use natural jade or carbon fiber to emit infrared rays, which can penetrate deeper into your body, down to muscles, nerves and bones. The infrared heating pad emits far infrared rays (the invisible part of the solar spectrum, which is perceived as heat) through semi-precious stones (tourmaline/jade/amethyst) or carbon fiber materials, and penetrates into the body tissues to the muscles, joints and spine.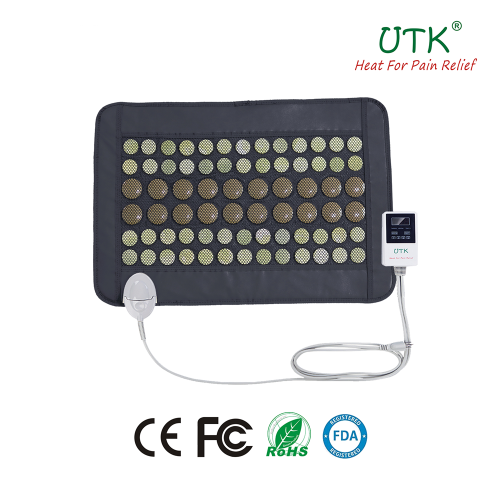 The infrared heating pad uses semi-precious stones (jade/tourmaline/amethyst) or carbon fiber to emit deep infrared (non-electromagnetic radiation), which can soothe, relax and promote the healing of muscle, joint and nerve pain. For infrared heaters, the stone converts the light energy of carbon fiber into heat; this warmth penetrates deep into the nerves, muscles and bones and relieves your pain. The heat penetrates into internal tissues, relaxes rigid muscles, accelerates the healing process of injuries, and improves blood circulation.
Most electric heating pads on the market only heat the skin layer, not the deeper muscles, and typically heat up to 130 degrees, which puts you at risk of skin burns from a conventional electric heating pad. Gel or liquid pads Gel or liquid pads usually need to be warmed up in the microwave before generating heat. Chemical bearings Chemical bearings rely on a chemical reaction to create temporary heat.
Heat can reduce muscle tension and relax the surrounding abdominal and pelvic muscles. Studies have shown that hyperthermia can reduce pain and increase blood flow, metabolism and connective tissue elasticity. UTK infrared heating pad contains jade and tourmaline, which are used to emit far infrared rays and negative ions to relieve stress.
Most of the FIR thermal pads you will find below use natural gemstones (jade/amethyst) to provide therapeutic infrared wavelengths. My favorite FIR heating pad and the type of best effect I have seen on patients is actually a combination of powdered stones (including jade, tourmaline, germanium, biotite, and feldspar) combined with clay to form ceramic flakes. ...When heated, these ceramics not only produce far-infrared spectrum radiation, but also release negative ions. This kind of charged molecules are naturally found in mountains, beaches, and waterfalls, and are believed to significantly improve mood and energy.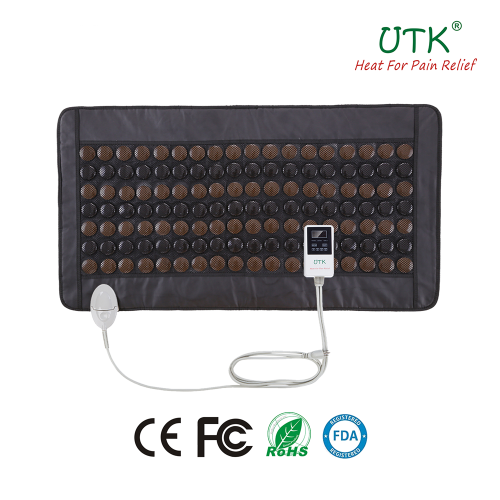 Along with these flawless ions, celestial heat penetrates deep into tense and knobby muscles, causing joint pain and abdominal cramps, increasing blood circulation and relieving tension. This is because infrared heat can enhance the action of acupuncture, which enhances the dilation of tiny blood vessels and enhances microcirculation to relieve pain and inflammation.
However, infrared products convert electricity into infrared light, which generates heat. By absorbing infrared thermal energy, body tissues are heated in a safe and gentle way by increasing blood flow in the treated area. This heat is then transferred to the cells of the body, causing the metabolism to accelerate.
Your body can breathe a sigh of joy as it receives natural pain relief from the simple healing power of heat. When THERMOTEX (tm) is at room temperature, it takes about 10 minutes to feel the warmth and the pillow has performed infrared therapy.
Simply place the pad over the electrodes while using the muscle stimulator to further enhance the enhanced circulation and deep therapy effects. The large Thermotex Platinum pad measures 15 "by 17" to cover a large area. Thermotex Platinum, consisting of three separate infrared elements measuring three by eight inches, provides flexibility; You can place the pad on or on top of different areas of the body that need assistance. The adjustable straps hold the padding in place, so you can be sure the warmth stays where you want and need to to relieve pain.
Designed for the muscular areas of the upper and lower back-you know, those areas that can become so tense and painful-the cushion can be used while sitting and lying down. You can choose a medium-sized heating pad or a full-sized heating pad. This progressive system combines the advantages of hot stone therapy, far infrared therapy and negative ion therapy to rejuvenate the wearer. In order to effectively relieve pain, this easy-to-carry jade and tourmaline treatment system can provide infrared heat of any size you choose for targeted or relaxing whole body treatment. This FDA-approved device provides deep heat penetration without the need for bulky coils or hot spots.
This deep, penetrating warmth temporarily but effectively relieves the pain caused by chronic injury or disease. It is big enough to wrap your body and enjoy a relaxing heat treatment. The Healthy Line heating pad in the far-infrared range is composed of jade and tourmaline in a circular unit located the entire length of the heating pad, equipped with a digital controller and containing an electromagnetic field protection layer. FIR heating pad is a proven safe and effective treatment method. Many patients find it to be an effective way to manage trauma pain at home without worrying about the risk of burns or the side effects of certain pain medications.
Thus, far infrared (FIR) heating pads have been shown to be safe and effective for many conditions and are an FDA registered treatment for use in the United States. Our room. 1. The LED Technologies DPL Infrared Flexible Deep Penetration Light Therapy System adapts to the contours of the treated areas on your body, providing comfortable treatment for very specific areas. UTK also released a new infrared lower back belt specifically designed to relieve low back pain using infrared heat transmitted through jade stones. It has an ergonomic design that perfectly follows the contours of the shoulders and neck for effective pain relief.
It is also suitable for use while driving-just put it on the seat and enjoy the benefits. All you have to do is to find a high-quality infrared mat that suits you (depending on your body type), and then choose whether to use jade or carbon fiber.
To top it all off, this rug features an innovative 17-layer system with a thick layer of natural amethyst infused with untreated 100% pure purple crystals that transfer heat to the deeper layers of the body. The distant rays emitted by several pounds of amethyst gems penetrate the inner tissues of the body 8 inches deeper than a standard pad, reducing pain and discomfort almost immediately. This is why any pain reliever you feel disappears when you turn off the pad.
The mat is immersed in a special diode that can emit this light wave...but remember, you cannot see it with the naked eye because it is outside the visible spectrum. These are the most cost-effective gaskets because they are larger and contain digital controllers, natural gems and negative ions.